Home
Step Inside
Guest Rooms
Bike Shop - We Sell TREK

Great Allegheny Passage

Comments & Friends
Area Attractions

Festivals

Map
The Great Allegheny Passage is just outside our door!
Seven Springs is a 10 minute drive from the Trail House. Many outdoor skiing and snowboarding activities await you there.
Biking the Great Allegheny Passage is one of the best experiences you will have this year. Visit with us!
Fallingwater and Kentuck Knob are truly splendid this time of the year. We hope you enjoy your visits.
Frank Lloyd Wright's masterpieces are stunning!


Welcome to the Rockwood Trail House Bed & Breakfast!
Western Pennsylvania lodging & accommodations -- a Bed and Breakfast we guarantee you will recommend to your family and friends.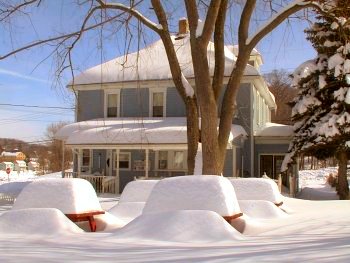 Located in the heart of the Laurel Highlands, this beautifully restored, turn-of-the-century, colonial home offers modern day conveniences combined with farmland antiquities. Your hosts, Lynn and Debbie Sanner, natives of Somerset County, provide country hospitality in a casual and relaxing atmosphere.
Whether your plans include bike riding or hiking along the Great Allegheny Passage( just steps away), relaxing in the Sun Room while sipping a cup of hot tea, lingering over a sumptuous country style breakfast, or visiting the other area attractions, festivals, Frank Lloyd Wright's Fallingwater & Kentuck Knob or our local resorts Seven Springs and Hidden Valley (both only 15 minutes away), a memorable experience is guaranteed. Step inside to learn more about this charming Bed & Breakfast offering lodging and accommodations for the entire family.
Ask us about packaging options such as; a Diner Theater, Winery Tour, Frank Lloyd Wright's Homes, White Water Rafting, Skiing and Shuttling on the Great Allegheny Passage.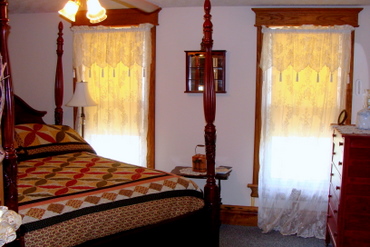 Another one of our five lovely bedrooms.
Accommodations that offer a quiet and relaxing getaway.
This week in Rockwood, Pa.
Summer promises to be great this year.
Don't miss any opportunities to be outside and have fun!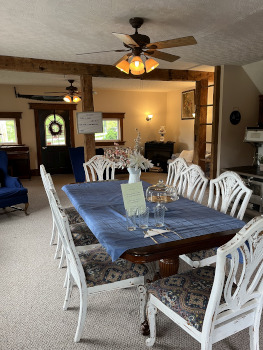 A clean, cozy, comfortable B&B.
Quote of the week:
The happiness of your life depends on the quality of your thoughts.
Make Sure a few of Our Famous Area Attractions are on your want to do list !
Bike on The Great Allegheny Passage.
Skiing and snowboarding at Seven Springs & Hidden Valley.
Touring the homes at Fallingwater & Kentuck Knob.
Viewing a production at Mountain Playhouse or a dinner theater at the Rockwood Mill Shops.
Hiking or enjoying one of our State Parks, such as Laurel Hill or Kooser
Cross-country skiing or snow shoeing on the Allegheny Highlands Trail
Somerset County offers many interesting places to tour (please check with us for more info)
Premier lodging and accommodation in the Laurel Highlands of Western Pennsylvania (Pa.) An award winning Bed and Breakfast. (B & B)
First level bedroom.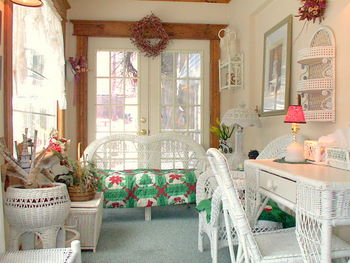 The Sun Room.
Your stay at the Rockwood Trail House
will be one of the best
memories of your life!